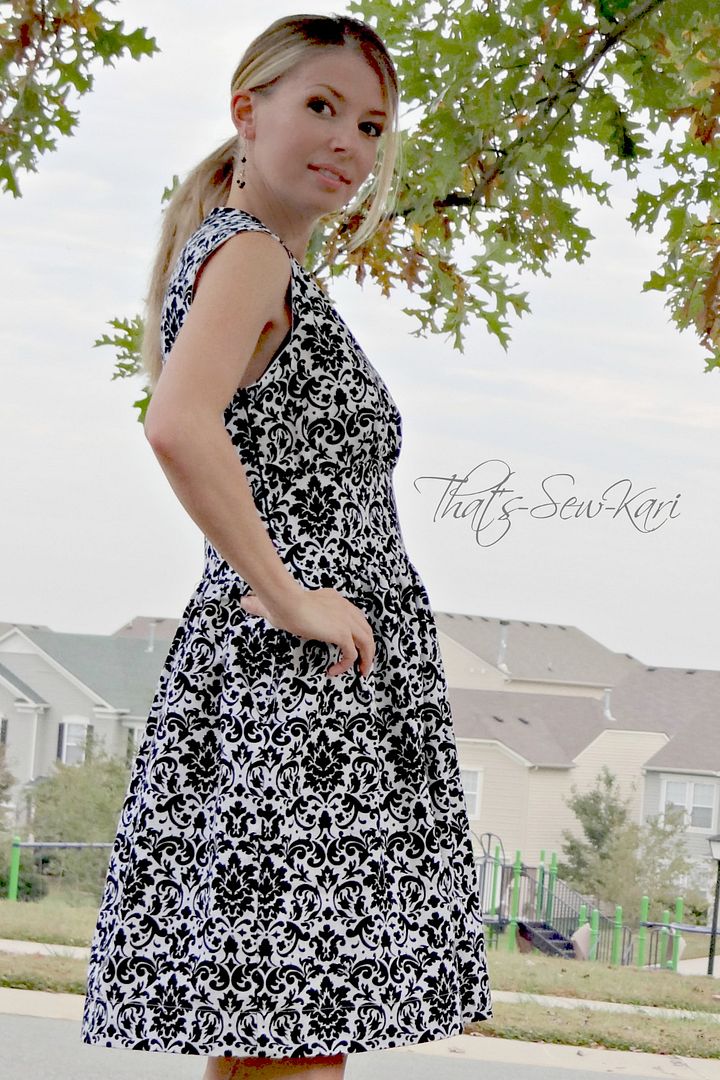 Meet Kari
(Care-ee)
Steiger
She's 34, has a husband and two daughters (ages 3 and 4), lives in North Carolina near Charlotte, and blogs at Thats-Sew-Kari-blogspot.com.
You have probably seen Kari around a lot - as a pattern tester for various designers, a contributor on
Pattern Revolution
, and as an assistant to Rebecca at
Candy Castle Patterns
(
CCP on Facebook
). I love Kari's take on patterns and the way she chooses fabric, pays attention to details, and puts her own spin on the patterns she makes. Seeing her work, I was surprised to learn she has only been sewing for about a year and a half, so I asked her about it, along with a few other get-to-know-you questions:
Is it true you haven't been sewing for a long time?
I bought my sewing machine right after my 33rd birthday. My mom sewed growing up and I know I sewed some Barbie clothes and hair scrunchies, but it's a very faint memory.
What prompted you to sew your first item? Why did you decide to start sewing?
Hmmm…. I had wanted a sewing machine for a while. I had come across Hayley from
Mouse House Creations
on Babycenter and always admired her work. Seeing her craftiness made me want to try. I actually had purchased a sewing machine the previous fall, but returned it right away because I was sure I wasn't going to have time or be any good. But, the desire never died so I decided to try it when I received money for my birthday. My first item I sewed was a cloth diaper using Walmart clearance flannel and a pre-fold that I hated using. I didn't even have a pattern, just sort of winged it. It was a bit small so I upcycled an old t-shirt for the next.
Was there a project that specifically hooked you? One that when you finished it, you thought, "I love this and I think I love sewing forever?"
Early on, my friend commissioned me to make her sister a diaper bag. She took a big leap of faith in me and I made it my mission to deliver. It turned out so adorable and her sister loves it. That was my first major project and when I was done, I couldn't believe I had made it!
You've said that it quickly became evident that sewing is your passion. What is it about sewing that you enjoy and are passionate about?
I enjoy the entire process. I love going to the fabric store and mixing and matching. I am a very visual person so I try to picture how everything will work together. I am very detail-oriented so I also like to focus on adding the extras. It's my escape; my time just for me to be creative. And, especially since becoming a pattern tester and trying to focus on my blog as well, I also enjoy photographing my girls. I love seeing their excitement and their energy translate into their photos.
Besides sewing do you have other interests, abilities, or super powers?
I enjoy reading, baking cookies and spending time with my family.
How did you get connected with Rebecca of Candy Castle Patterns? Pattern Revolution?
We met sort of by accident, actually. I got offered the chance by Pattern Revolution to review her
Bubblegum Dress
. I had a question and messaged her, not realizing she was several hours ahead. She messaged me back and we just never stopped!
Robin Hill was just forming the Pattern Revolution Blog shortly after I found the PDF group. I sent her a message and said I was interested. I'm lucky she said yes!
Would you tell us about your sewing space and machines?
I sew in my bedroom, literally 2 feet from my pillow…LOL. I have the Sauder sewing table from Walmart that closes back up, but of course, mine is always open. I have a Singer Fashion Mate sewing machine, a Babylock Diana serger and a Brother PE500 embroidery machine. My poor husband sleeps through most of my sewing.
What is your favorite sewing tool you own?
It's a toss-up between my embroidery scissors and my seam-ripper.
What is number one on your sewing wishlist?
I'd love to upgrade my sewing machine to one that cuts my thread for me. But first, I'm upgrading my camera!
What ways have you found most helpful for developing your sewing technique and skills? Do you use YouTube videos, blog articles, online classes, pick up new things from pattern tutorials, have someone who shows you in person?
I have learned the most from pattern tutorials. When I first started testing, each time, there was something that I had never tried before.
How much time do you spend sewing each week (or working on a sewing project, if not actually using a sewing machine)?
Hmmm, probably too much! I sew several hours a night, every night almost. I take my time and enjoy the process.
And finally, can you think of a memorable sewing project that didn't go right - something Sew Not Perfect – that you had to abandon or work to correct? Or do you have a pet-peeve sewing mistake that drives you crazy whenever you do it?
The Minnie Mouse cut-out in the back of my daughter's dress took me 3 tries to get it right. I had a vision of what I wanted it to look like, and finally, I nailed it. I don't give up easily.
My biggest pet peeve is the print of the fabric not being centered or straight. I try to take the extra time to think through the placement of everything, including what will be lost in the hem. Sometimes, I overlook something and it drives me bonkers.
Be sure to visit
Kari's blog
to see her latest projects and pattern reviews.